The Nigeria Police has vowed that it will not allow any rally or protest by agitators for Oodua Republic and conveners of #RevolutionNow  who have scheduled protest rallies and processions to mark October 1 Nigeria's independence day celebration.
Agitators for the creation of Oodua Republic have indicated that they will hold rallies and processions across the states in South west Nigeria to demand for the secession of the region from the country.
In the same vein, agitators, under the aegis of #RevolutionNow, led by the publisher of Sahara Reporters, Omoyele Sowore, are perfecting plans to take to the streets on October 1 in protest against 'various social, political and economic developments in the country.'
But in an obvious move to nip such plans in the bud, the Lagos Commissioner of Police, Mr Hakeem Odumosu, on Wednesday instructed officers and men of the command not to allow any group to hold rally or protest within the state during the nation's 60th Independence anniversary.
Odumosu, in a statement signed by the command's Public Relations Officer (PRO), SP Olumuyiwa Adejobi, said that the Lagos State Government had cancelled the ceremonial parade in adherence to COVID-19 regulations.
According to him, the cancellation of the ceremonial parade by the state government is to discourage the gathering of more than 50 people in order to curb the spread of COVID-19 pandemic.
"We will not allow any gatherings, rallies or protests against the sovereignty of Nigeria in Lagos State as the country marks its 60th Independence anniversary," Odumosu said.
The commissioner appealed to parents and guardians to warn their children and wards to desist from being mobilised to wage war, join any rally or protest against the Federal Republic of Nigeria.
"Any youth arrested for such act will be prosecuted.
"I urge the general public to be law-abiding and desist from violence and any act that is capable of disrupting the sovereignty of Nigeria," Odumosu said.
"Anyone arrested for such actions will be prosecuted", the commissioner warned.
Also, Rivers Commissioner of Police, Mr. Joseph G. Mukan, has warned the proscribed Indigenous People of Biafra, IPOB or other groups planning to hold protest or rally during the October 1, Nigeria 60th Independence anniversary to desist.
Mukan gave the warning in the good will message he issued in response to announcement of plan to hold "RevolutionNow" protest in Port Harcourt by the Rivers Civil Society Organizations, RIVCSO on the Independence Day.
RIVSCO said it wants to hold the protest to make up for the suspended rally of the labour unions against hike in fuel price and electricity tariff.
The group, in a statement by signed by Comrade Solomon Lenu, its spokesman, said its members have decided to lend their voices to condemn the five per cent in leadership positions, who have held the 95 per cent of Nigerians hostage due to bad governance and economic strangulation.
According to RIVCSO, "we cannot fold our arms and do nothing in the face of stinking corruption that has bedeviled our country to a level that is now excruciating, as not only our generations, but even those after ours will bear the brunt of such inaction.
"So, we have decided to join forces with Nigerians who are suffering the hike in the petroleum pump price, and those agonizing from the pain of increased electricity tariffs even with epileptic power situation that has hampered our industrial growth for uncountable decades with no end in sight, to say enough is enough.
"We have decided to resist because any further silence will make us complicit in the annihilating malfeasance that has held us all down, and made the country a suckling baby in the League of Nations who goes cap in hand from country to country, begging for loans sixty years after independence amidst stupendously mismanaged wealth."
But the CP Mukan assured the people of the State that there is no cause for alarm as adequate security deployments have been made to ensure that the Diamond Independence Anniversary celebrations are carried out in an atmosphere of peace and tranquility, while warning those he described as trouble makers and all criminal elements to have a rethink or face the full weight of the law.
He, therefore, warned that anybody or group under whatever guise, planning to stage a protest, or issuing unlawful order of sit-at- home should immediately shelve the idea, as no effort will be spared in dealing with them.
CP Mukan enjoined the people of the State to come out and celebrate Nigeria at 60, without fear of molestation, while observing all COVID-19 prevention protocols.
In the same vein, the Deputy Inspector General of Police in charge of South-West, Mr Leye Oyebade, said such procession could trigger a crisis, especially at this time when the nation was celebrating its 60th anniversary.
Oyebade said there would be police patrol in the entire South-West states on Thursday, saying the police would ensure that the peace being enjoyed in the region was not disrupted by anybody or group of persons.
The DIG said the warning was from the Inspector General of Police, Mr Mohammed Adamu.
He said, "Our parents should not allow their children to be used for any unwarranted procession. This is the independence of our nation and we are not supposed to be fighting.
"Our men will be out on patrol. On no account should anybody come out to disrupt the peace we are enjoying. The police will make sure that nobody is allowed to cause crisis here.
"To those who have been making inflammatory statements, those that we have warned, we have their records. Nobody should do anything to destabilise this nation."
Some groups have been clamouring to stage a rally to demand the Oduduwa Republic on October 1.
Right to protest fundamentally backed by Constitution, says CORE
Meanwhile, the Coalition for Revolution (CORE) has stated that the right to protest was a fundamental one guaranteed by the constitution of the country.
CORE said this in reaction to the ban on protest on October 1 by the Lagos State Police Command.
Baba Aye and Gbenga Komolafe, Co-conveners of CORE, said the group will go on with its scheduled protest and urged other civil society groups to embark on their respective protests.
"We want to make it clear that we remain undeterred and the protest cannot be stopped.
"When in our national anthem it is said "the Labour of our heroes past shall never be in vain" we remember clearly that the labour of real heroes of independence was struggle: protests that were not deterred by the colonialists repressive tactics.
"We salute Michael Imoudu, Raji Abdallah, Mokwugo Okoye, Margaret Ekpo, Mallam Aminu Kano, Funmilayo Ransome-Kuti, Nduka Eze, Baba Omojola, Funmilayo Ransome-Kuti, Wahab Goodluck.
"These and the thousands of working-class class people and youths who took to the streets and downed tools in the workplaces are the heroes of what was won 60 years ago but which was bastardized by the thieving elites who took over power.
"We call on all Nigerians not to succumb to intimidation. Our peaceful protests against the elites' corruption, our state of poverty and underdevelopment of the country shall proceed as planned and the take off point remains the Gani Fawehinmi Park, Ojota in Lagos and at all points in our posters across every state of the federation. Take-off time in all the states' capitals remains 8am prompt," the statement reads.
Be united, EU urges Nigerians, as NOA calls for renewed patriotism
The European Union has urged Nigerians to embrace unity as the country marks its 60th independence anniversary.
The Head of the EU Delegation in Nigeria, Ambassador Ketil Karlsen, said Nigerians should build on things that unite rather than divide the country, in spite of diverse cultures and religions.
A statement on Wednesday, titled, 'Nigeria @60: EU Urges Unity among Nigerians, Hails COVID-19 Response', quoted Karlsen to have given the advice in a broadcast in Abuja to celebrate Nigeria's 60th independence anniversary.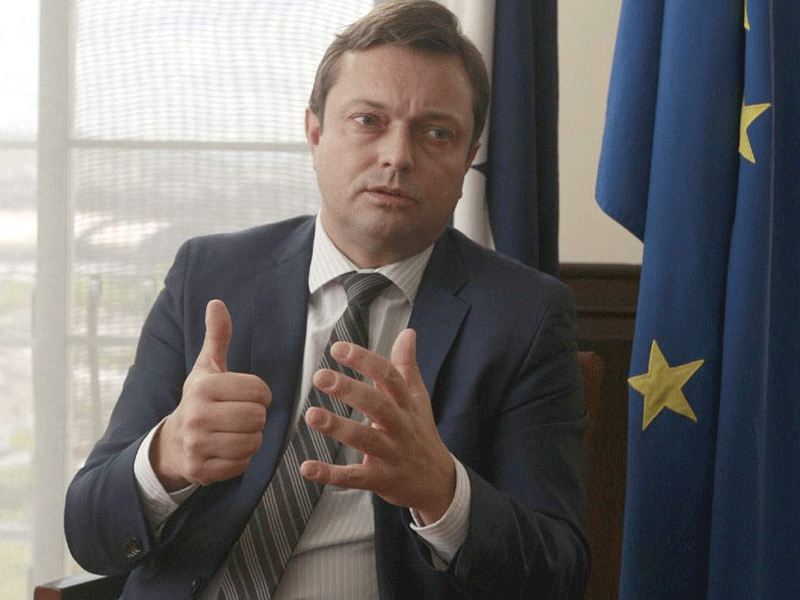 The envoy said the EU was proud that in spite of its diversity Nigeria had remained a united country.
"The amazing and rich diversity of Nigeria in terms of culture, language, religion and ethnicity is simply unique, and a vital strength that should make every Nigerian proud," he was quoted to have said.
The statement also quoted him as urging "Nigerians to always focus on what unites the country rather than what keeps it apart, noting that togetherness is what defines the potential of Nigeria as a nation."
Similarly, the National Orientation Agency, NOA, has called for a renewed spirit of patriotism and nationality among Nigerians as Nigeria marks her 60th Independence Anniversary.
The NOA Director-General, Dr. Garba Abari, who made the call in a felicitation message signed by the Assistant Director for Press, Paul Odenyi, urged Nigerians to use the occasion to reflect on the fact that Nigeria is their only country.
According to him, the greatness of the country lies in the hands of its citizens.
He said: "At 60 years of independence, Nigeria has come of age and must fully take her place as the giant of Africa, not just in words but in reality. Yet, it will take the unreserved loyalty of our people to our fatherland for this to be.
"We must therefore rethink our overreaching inclinations to our sectional, tribal and religious cleavages and embrace more firmly, now more than ever, our nationhood and collective brotherhood as one united people under God so that together, we can forge a clear path for a better Nigeria."
Mr Abari pleaded that the next decade for Nigeria be devoted to true national rediscovery.
This, he said, would aid rapid development of the country in the spirit of collectivism as envisioned by the nation's founding fathers.
He disclosed that the NOA had recently launched citizens' video competition on social media in a campaign tagged "#4ABETTERNIGERIA".
According to him, the competition aims to attract youth to submit as well as circulate self-made videos on issues of patriotism and national ethics with amazing prices to be won.
This, he noted, was part of the Agency's contributions to renew nationalistic fervor among Nigerians as the nation marks her 60th Independence Anniversary.