By Phoebe Kure
Members of the Peoples Democratic Party from the Niger State Chapter on Wednesday demand the sacking of the party's National Financial Secretary, Abdullahi Maibasira.
The protesters, who stormed the Legacy House, Maitama Abuja used by the National Working Committee (NWC) of the party as an alternative secretariat, were from Niger state, the home state of Maibasira.
Maibasira was accused of conniving with the All Progressives Congress-led State Government to undermine the party.
The tens of party members who came from Suleja Local Government alleged that the national officer was romancing with the APC in Niger state against the interest of the PDP.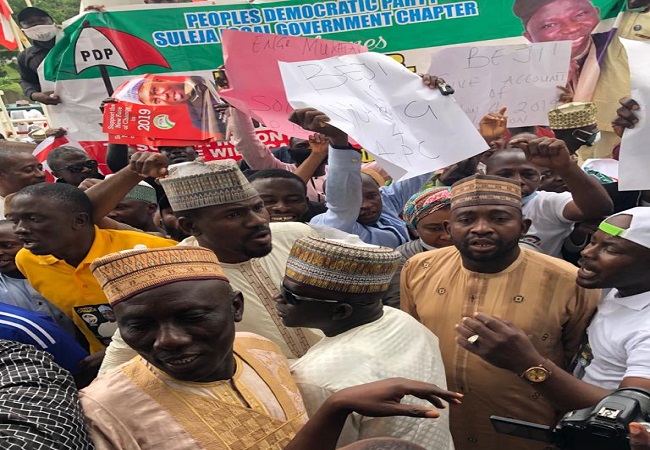 They also vehemently opposed what they alleged is an attempt to impose the former state Chairman of the PDP in the state, Tanko Beji, for another tenure against their preferred choice of Mukhtar Ahmed.
One of the protesters, Yahuza Hussaini, a PDP member told news men that the protest was organised to draw the attention of the national body to the alleged anti-party activity of the NWC member, whom they claimed was working with a former PDP leader in the state.
"We are here to tell our party leaders that we cannot continue to allow Maibasira and the former Speaker of Niger State House of Assembly, Tanko Bego to surrender our party to the APC Government in Niger State.
"The leader of the PDP that we know in Niger is the former Governor Babangida Aliyu Talban Minna, he has remained in the PDP, even when these people left and came back," Hussaini said.